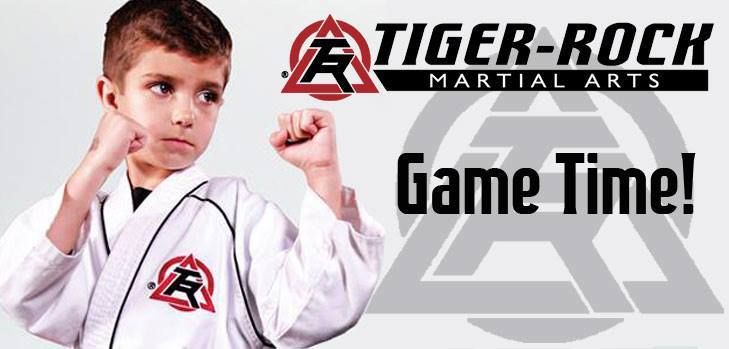 2015 Tiger Rock National Championships

The tension that builds as you prepare, the adrenaline rush you feel when you walk in, the
calm you feel before competing, the thrill of winning ... How bad do you want it?

Make your plans to attend the 2015 Tiger-Rock Martial District Championships in
Slidell, Louisiana March 14th for the experience of a lifetime.
Don't miss your opportunity to make memories, socialize with other martial arts
athletes, and
demonstrate
your skills at the tournament.
The traditional rank competition events create an opportunity for participant to

demonstrate their skills against competitors at a similar belt rank. Prep your skills

and sign-up for a chance to earn a spot in the Masters Division at this year's
Tiger-Rock World Championships.

Rank Competitions Include:
Single Rank Sparring (Green Belt-Black Belt (Ages 6+)
Ho-Am Form (All Belt Ranks (Ages 6+)
One-Steps (White Belt - Yellow Belt (Ages 6+)
Tiger-Cubs Competition (All Cub Ranks (Ages 4-5)


HERE IS THE HO-AM FORM

HERE ARE THE COMPETITION ONE STEPS











Am I Ready for the Tournament?

Attend as many classes as you can until the tournament to get ready!

(You do not need 3 stripes on your belt for the Tournament -- that's for Testing.)


My child seems young or too new. Is this for my child?

Tournament competition is very important for every student.

We have separate divisions for each age and belt. Again, make sure you come to

class to get ready.


What do the students do at the Tournament?

Tiger Cubs will perform the items on their skill sheets, available at the front desk

if you would like to practice at home. They will be coached along by our positive

and friendly trained judges.



White Belts do Ho-Am Form and One-Steps



Yellow Belts do Ho-Am form and One-Steps



Green Belts & Above do Ho-Am Form and Point Sparring

Additionally they may do Board Breaking